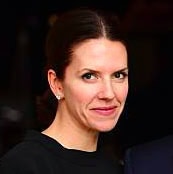 Amy Phillips Rotter
Sessions with Marina are transformative. Physically, mentally and emotionally. Her work is truly energy-based (as well as intensely physical) and her sing-song demeanor, intuitive touch and unfaltering knowledge of what you need is without comparison. You walk out energized and lighter. Sore muscles are at ease again. Furrowed brows are lifted (and so is your bum, by the way). Everything is smoother, even your blood flow.
Fine Artist
Kimberly Muller
Marina is a miracle worker. Every time I leave a session with her I feel 10 years younger, lighter and renewed ...She is the secret fountain of youth.
Writer, Producer, Co-Founder Au Fudge

Diana Corto-Stomsvik
I found Marina to be wonderful. She can quickly identify tension areas and use methods that bring relaxation, relief, posture realignment and a wonderful feeling of well-being.
Executive Director of International Concerts
Amy Nelms
I have been seeing Marina for over a year and have seen dramatic changes in my body thanks to her lymphatic massages. My immune system has never been stronger – I can't even remember the last time I was sick. My workouts are more effective, my muscles more defined, and I have greater flexibility in my upper back and shoulders. I never have any aches or pains and always leave happy.
Certified Pilates Instructor
Joe Nelms
Marina changed my life. I suffered from "frozen shoulder" – couldn't raise my arm over shoulder height. Couldn't lift or play ball for a YEAR. She used a combination of deep targeted massage, cupping, and electric stim, I'm back to my full range of motion. I highly recommend her.
Writer, Creative Director, Producer
Nina Ananiashvilli
Ms. Marina Baratashvili, is one of those rare people that still have an excellent work ethic and passion, must important she's very knowledgeable about massage therapy. That's why all dancers love her massages and realize the importance of a skilled massage therapist
Artistic director / State Ballet of Georgia
Dmitri Jurowski
I have to fly often and that creates a lot of problems in my back. I have visited a great number of physiotherapist and osteopaths all over the world. I can confirm from my own experience that she is capable to resolve, most of the existing physical problems.
Music director of the Royal Flemish Opera House, Belgium. / Artistic director of Moscow City Symphony orchestra -Russian philharmonic.
Maya Lomadze
Marina is a highly skilled professional, she is very good at therapeutic as well as correction massages; every time she massages me, I see a complete change and a much better shape of the body after just a few sessions.
Senior Operations Manager / Skill road Group
Dotti
Marina's technique of massage of lymphatic nodes and muscles along with cupping is a transformation to the body on the inside and the outside even to the naked eye I saw the changes to my body shape. Changes I couldn't achieve through exercise.
Celebrity Make up Artist
Hailey Lusting
With the spirit of an angel in the hands of a magician, I have fallen in love with Marina. In less than 10 sessions she has managed to do for my body what no trainer has been able to accomplish. Inches have vanished and my shape has completely changed. Marina is an artist who uses for hands as her paintbrush. The short term pain is made pleasant by her radiant spirit and easy nature. And the results are undeniable. To spend an hour in her care is a joy and a privilege. Believe the hype!.
Founder and publisher of Show People magazine
Kate Bartle
Six weeks into weekly treatments with Marina, my body has become longer and significantly leaner - my sleep has improved dramatically and my skin has a glow that it didn't before. Marina's innate understanding of the body and all of its systems is incredibly unique - I can not imagine my life without her now. My time with Marina has become the highlight of each week - she is truly gifted.
Senior Director, Global Fashion PR & Communications at Ralph Lauren
Alexa Marks
Marina has changed my body significantly. My legs are slimmer, smoother and have muscle definition that I've never had before. After a few months of seeing Marina, I went to try on dresses for a wedding and learned that I had dropped 2 dress sizes. In addition to being an amazing body sculptor, she understands the internal workings of the body in unbelievable ways. She knew upon seeing me for the first time that my digestive system was weak -and since then I have felt amazing improvements. I trust her like no other!.
Jenna Chernin
"I am absolutely hooked! Over the past 3 months she has seriously changed my body and helped me feel so much more confident. The back of my legs are so much smoother - she has completely eliminated my cellulite. My legs look longer and leaner and the shape of my waist is tighter and so much better than before. I also just love her - she is so smart and so sweet! Thank you so much Marina!.
Annie Nugent
Marina's depth of knowledge about the body is limitless. She has cured me of all back pain and enabled me to continue exercising and living life to the fullest. Marina is a source of calmness and kindness. Her soulful demeanor coupled with her incredible understanding of the body make all experiences with her truly integrated. An hour with Marina is the ultimate mind-body experience.
Sophia Rossi
The transformation I felt from specific areas like a smaller waist or leaner back was an addition to the happy hormones and less bloating I felt. After 10 sessions I felt introduced to my new body and can't wait to do more.
Co-founder @hellogigles & processed emotions.
{"video_yurl":"false"}